Thinking about your post-work home? You'll get huge bang for your buck -- plus lots of other perks -- in these towns.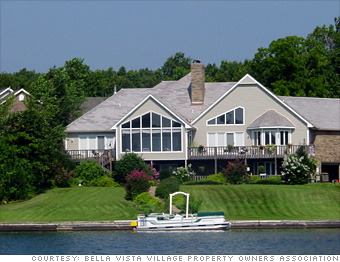 Population: 16,100
% over 50: 88%
Typical 3-bedroom home: $170,000
State income tax: 7.00%*
Bella Vista is a dream for outdoor enthusiasts. Set in the shadow of the Ozark Mountains, Bella Vista offers residents two swimming pools, 12 tennis courts, seven stocked lakes for fishermen, and quite a few walking and biking trails. Bella Vista, Spanish for "Beautiful View," began as a resort town, but developer John Cooper began marketing it as a retirement community in 1965. By the mid-1980s younger residents of Northwest Arkansas discovered the idyllic community and began moving there in droves.
Five country clubs offer restaurants options within the town limits, and residents often make the 15-minute drive to Bentonville for additional dining and shopping. Arts-lovers make the short trip to Fayetteville to the Walton Fine Arts Center and North Arkansas Symphony.
The prices are another enormous draw. The average home price is less than $200,000. --B.B.
See complete data, including tax rates, for Bella Vista

NEXT: Miami

Last updated September 24 2009: 1:21 PM ET
* For top bracket. Arkansas doesn't adjust its brackets for joint filers. Some states permit married couples to file separately to avoid a marriage penalty, and some allow joint filers to make an adjustment to reduce their tax after it is calculated. Arkansas has county or city level income taxes. The average rate for all counties and cities, weighted by total personal income within each jurisdiction, is 0.06% in the state.