Thinking about your post-work home? You'll get huge bang for your buck -- plus lots of other perks -- in these towns.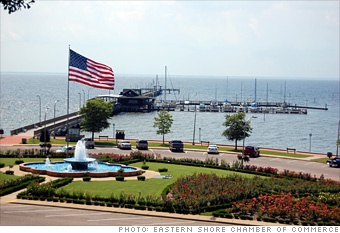 Population: 16,600
% over 50: 39%
Typical 3-bedroom home: $265,000
State income tax: 5.00%*
This peaceful, pedestrian-friendly town on the shores of Mobile Bay has long drawn artists attracted to the small town ambiance and prevalence of local galleries and studios for displaying their work. The galleries pepper downtown streets along the waterfront, alongside more than 80 antique shops, small boutiques and locally owned restaurants. The first Friday of each month, the Eastern Shore Arts Center and Fairhope Visitors Center host an arts walk, and visitors can meet the artists and enjoy live music, drinks and hors d'oeuvres. Each March, the town welcomes more than 150,000 visitors to its three-day Arts & Crafts Festival.
Fairhope offers plenty of recreational opportunities aside from artistic pursuits and shopping. Residents enjoy fishing off the pier or boating and kayaking in the bay. There are two golf courses in town and paths for biking and jogging.
For urban amenities, residents can make the half-hour jaunt to Mobile. But they don't need to leave for health care: Thomas Hospital is located within Fairhope. --B.B.
See complete data, including tax rates, for Fairhope

NEXT: Lake St. Louis, Mo.

Last updated September 24 2009: 1:21 PM ET
* For top bracket. Alabama effectively doubles the bracket widths for joint filers. Alabama has county or city level income taxes. The average rate for all counties and cities, weighted by total personal income within each jurisdiction, is 0.19% in the state.