Thinking about your post-work home? You'll get huge bang for your buck -- plus lots of other perks -- in these towns.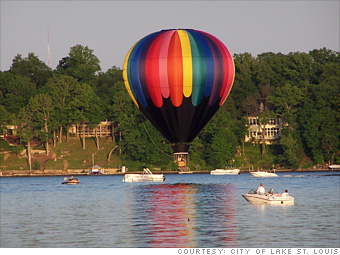 Population: 13,900
% over 50: 36%
Typical 3-bedroom home: $235,000
State income tax: 6.00%*
A lot of the action in this planned community outside St. Louis, takes place on Lake St. Louis and Lake St. Louise, known affectionately as the Big Lake and the Little Lake, respectively. The 550-acre Big Lake has about 17 miles of shoreline for residents to enjoy. About 1,500 boats are registered with the Lake Saint Louis Community Association for use in the two bodies of water. Eighty percent of residents belong to the association, which gives them access to the lakes, golf course, tennis courts, swimming pool and clubhouse.
The city offers recreational programs throughout the year, including adult softball and baseball leagues, drawing classes, and golf leagues. In the summer, residents head to their boats or grab a spot on the shore to hear free, city-sponsored concerts on the Big Lake.
Housing options in Lake St. Louis range from $60,000 condos to waterfront properties that cost more than $1 million. Most homes run from $100,000 to $400,000. --B.B.
See complete data, including tax rates, for Lake St. Louis

NEXT: Roanoke, Va.

Last updated September 24 2009: 1:21 PM ET
* For top bracket. Missouri doesn't adjust its brackets for joint filers. Some states permit married couples to file separately to avoid a marriage penalty, and some allow joint filers to make an adjustment to reduce their tax after it is calculated. Missouri has county or city level income taxes. The average rate for all counties and cities, weighted by total personal income within each jurisdiction, is 0.12% in the state.