Thinking about your post-work home? You'll get huge bang for your buck -- plus lots of other perks -- in these towns.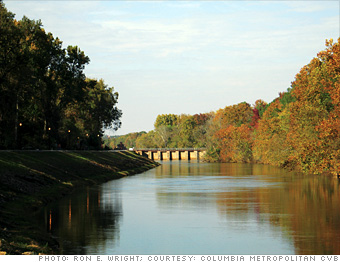 Population: 124,800
% over 50: 23%
Typical 3-bedroom home: $150,000
State income tax: 7.00%*
South Carolina's capital city offers all the amenities of city life with a healthy dose of Southern Hospitality and a low cost of living to boot. There are a handful of golf courses in Columbia, and lots of links right outside--available year-round thanks to Columbia's temperate climate. Outdoor recreation is accessible on the city's greenways and rivers or nearby Congaree National Park and Lake Murray.
The University of South Carolina has a flagship campus in Columbia, and tuition for state residents age 60 and older is free, pending space availability. Between classes, there's plenty to keep busy downtown. The area boasts a bevy of restaurants and stores, in addition to the Columbia Museum of Art, South Carolina State Museum and Riverbanks Zoo and Botanical Garden. Columbia's also got an active performing arts community, with multiple theater groups, two ballets, and a philharmonic orchestra. --B.B.
See complete data, including tax rates, for Columbia

NEXT: Bangor, Maine

Last updated September 24 2009: 1:21 PM ET
* For top bracket. South Carolina doesn't adjust its brackets for joint filers. Some states permit married couples to file separately to avoid a marriage penalty, and some allow joint filers to make an adjustment to reduce their tax after it is calculated. Values adjusted for inflation each year. Deduction or exemption tied to federal tax system. Federal deductions and exemptions are indexed for inflation.