Thinking about your post-work home? You'll get huge bang for your buck -- plus lots of other perks -- in these towns.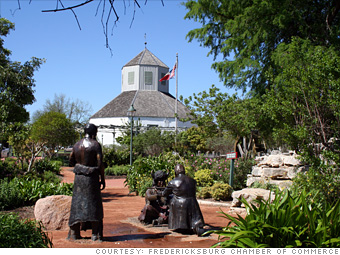 Population: 10,900
% over 50: 40%
Typical 3-bedroom home: $220,000
State income tax: None
Founded in the 19th century by German immigrants, this municipality in Texas Hill Country has never forgotten its roots. German-themed bakeries and beer gardens dot the downtown, and Oktoberfest remains a major celebration. There's plenty of American history in town too, including the Pioneer Museum and the National Museum of the Pacific War, which will open the George H. W. Bush Gallery this December. Art aficionados enjoy a thriving art scene and multitude of small galleries throughout town.
Retirees flock to Fredericksburg for its warm weather and the income tax-free living afforded by Texas. Outdoor recreation abounds in the multiple parks in Fredericksburg. The largest, the 150-acre Lady Bird Johnson Municipal Park, offers lake fishing, a 72-par golf course and an Olympic-size pool for swimming. The snaking roads and rolling hills throughout the region draw both bicyclists and motorcyclists. For urban adventures, residents can reach both San Antonio and Austin in less than an hour. --B.B.
See complete data, including tax rates, for Fredericksburg

NEXT: Savannah, Ga.