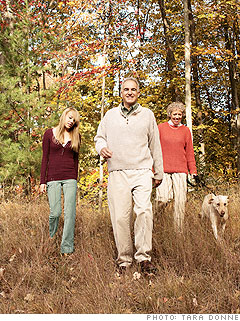 Don and Linda Howlett, with Gwen
Hometown:
Gladstone, Mich.
Ages:
56, 49, and 15
Occupations:
Conservation educator for the U.S. Forest Service, economic development consultant
The goal:
Don plans to retire in January. The family hopes to delay tapping his investments for at least a year to give his portfolio time to rebound.
"Our retirement plan looks good on paper, but now we're going from theory to practice. It's hard to know if it will really work, especially in this market."
--Don Howlett
NEXT: Real estate