We looked at Money's top 100 Best Places to Live and found these lucky towns that also enjoy jobless rates far below the 10% national average.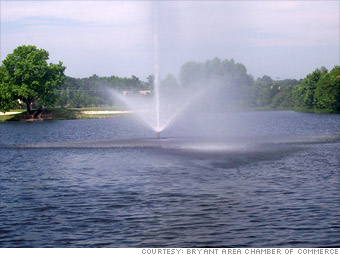 Towns include: Bryant
Best Places to Live rank:
86
Unemployment rate:
5.7%
You may not be able to buy a beer in this dry county, but you can likely get a job. Saline County has benefitted from its proximity to both the urban center of Little Rock and the recreational retreat of Hot Springs. That, plus a low crime rate and great schools has drawn many families to the area.
But it's not just a nice place to live. Saline's job market is supported by emerging industries like health care, even as the traditional aluminum mining industry has taken some blows. A new regional airport and industrial park are also broadening the area's appeal to other businesses as well.
"We've lost jobs, there's no getting around that. We just haven't felt it as bad as other parts of the country," said Senator Shane Broadway.
More galleries
Last updated December 30 2009: 7:51 AM ET
BLS unemployment data is from October, the most recent available.