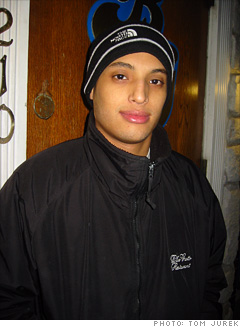 Nuñez, 21, works as a valet while studying at Johnson & Wales University in Providence.

Over the summer, I was making $150 every three or four days. I got between $3 and $5 a car, usually $5.
As time progressed, it started getting a lot worse. Tips started getting a lot lower -- $2, $1, sometimes I don't even get tipped at all. It's kind of rough times, especially right now.
Right now, the economy is really bad. People are losing jobs left and right and I guess they don't feel that someone going to get their car is really worth that much of a tip. I can understand that, but sometimes I'm out here in the pouring rain, trying to make some money like everyone else. Now, [I make] maybe between $80-$90.
When it's really cold, sometimes we get more tips. But sometimes people think he's just running around the block to get a car. It's not worth $5.
Last updated April 14 2009: 11:21 AM ET
Email
|
Print
|

Digg this story
|

RSS