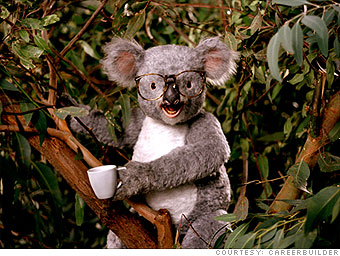 As the economy bleeds millions of jobs, Careerbuilder.com's Super Bowl spot is reaching out to those who feel stuck at dead-end positions.
In the past, Careerbuilder.com used incompetent office chimps to draw attention to its job-hunting web site. But in its Super Bowl 2009 commercial, the chimp in the neighboring cubicle has apparently evolved into a toe-picking, Speedo-wearing nerd with an obnoxious laugh.
The Careerbuilder.com commercial sympathizes with frustrated workers, as it visualizes their absurd fantasies, including - yes - punching out a koala.
Last updated February 02 2009: 1:43 PM ET
Email
|
Print
|

Digg this story
|

RSS