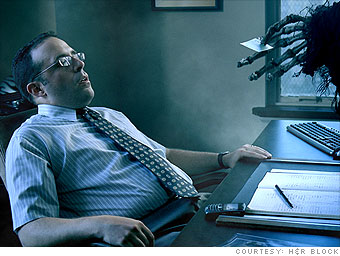 Benjamin Franklin once wrote, "In this world nothing is certain but death and taxes." This quote is on the minds of many Americans as they get ready to file for an economically brutal 2008.
Tax preparer H&R Block takes the founding father's quote one step further. The commercial begins when the Grim Reaper, scythe in hand, visits an accountant. But the Reaper hasn't come to claim his life. According to H&R Block, even Death needs help filing his taxes.
The commercial also features an appearance from Abe Vigoda, "The Godfather" actor who is occasionally accused of being dead. As of this writing, Vigoda is still very much alive.
Last updated February 02 2009: 1:43 PM ET
Email
|
Print
|

Digg this story
|

RSS