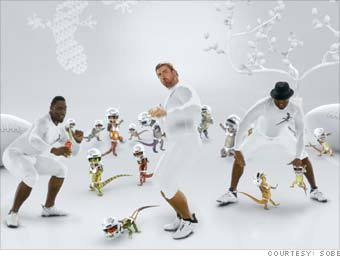 In last year's Super Bowl commercial from PepsiCo, the animated lizard mascots of SoBe Lifewater danced to Michael Jackson's "Thriller."
This year, the lizards will be making a 3D comeback as they dance with animated characters from the upcoming Dreamworks movie "Monsters vs. Aliens," including the extraterrestrial eggheads who aim to take over Earth, and the talking blob and other monsters recruited by the government to stop them.
These animated characters will be joined by three real-life NFL players in white leotards: Ray Lewis of the Baltimore Ravens, Matt Light of the New England Patriots and Justin Tuck of the New York Giants. None of these players will appear in Sunday's game.
To experience the commercial in all three dimensions, Intel-made 3D goggles that it's offering at SoBe Lifewater retail stands.
Last updated February 02 2009: 1:43 PM ET
Email
|
Print
|

Digg this story
|

RSS