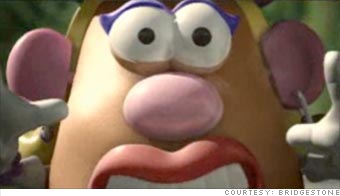 A yellow convertible races down a mountain road, winding among the twists and turns.
The car rounds a bend and - suddenly - the road is blocked by a herd of sheep! The camera shifts to the driver, and it's the screaming face of Mrs. Potato Head.
Tire maker, Bridgestone, is extending the roadkill tease it wielded in last year's Super Bowl commercial, featuring a squirrel that screams hysterically as it narrowly avoids getting pancaked.
"We understand that with the Super Bowl, humor is an important factor," said Phil Pasci, vice president of consumer tire manufacturer.
Last updated February 02 2009: 1:43 PM ET
Email
|
Print
|

Digg this story
|

RSS