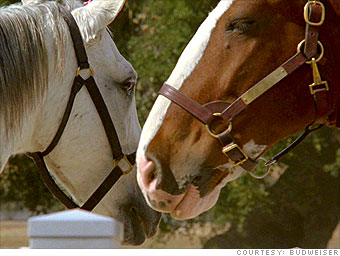 Anheuser-Busch has been the Super Bowl's most prolific advertiser for quite some time.
Over the years, the brewer has wooed Budweiser fans with its iconic Clydesdales, talking frogs, comical cavemen and catch-phrases like "Wassup." For this year's commercials, the brewer recruited comic Conan O'Brien, and the heavy horses will keep their place.
This year, Anheuser-Busch is ramping up its Super Bowl presence with an extra 30-second spot, bringing its total ad time to four-and-a-half minutes.
"We're going to have more Clydesdales spots on this game than we've ever had before," said Anheuser-Bush chief creative officer Bob Lachky. "We're trying to reassure the viewer, and our consumer, that we're here and we're strong and we're never changing."
Last updated February 02 2009: 1:43 PM ET
Email
|
Print
|

Digg this story
|

RSS