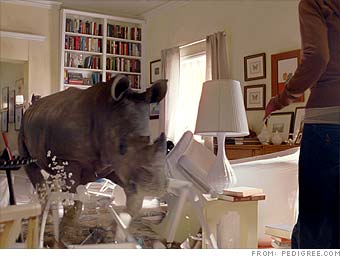 Pedigree, the pet food producer owned by Mars, Inc., will run its first Super Bowl ad this year.
The commercial focuses on the plight of homeless pets, abandoned by their jobless owners, said marketing director John Anton. But Anton said he doesn't want the spot to be too depressing, like the "dog behind bars" ads that Pedigree has run in the past.
So instead of showing sad-eyed dogs in cages, the spot makes its point with a bison trying to play Frisbee, and a rhino destroying a house as it's taken on a walk.
"We've made the ad intentionally a bit more humorous, and appropriate for the audience," said Anton. "We're taking a look at what the world would be like without dogs."
Last updated February 02 2009: 1:43 PM ET
Email
|
Print
|

Digg this story
|

RSS