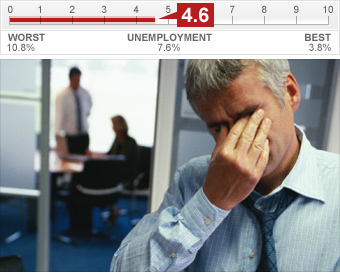 Many economists argue that, just to keep pace with the increase in the number of people able to work (new entrants to the workforce, minus those retiring), the U.S. needs to add a minimum of 100,000 jobs per month. America lost 598,000 jobs in January alone - starting the year off with the worst monthly decline in employment since December 1974.
Altogether, America has lost 3.6 million jobs since the start of the recession in December 2007.
And as President Obama signed the $787 billion recovery package into law, he did so against a backdrop of a rising unemployment rate, currently 7.6%.
To put that into perspective, consider that during the Great Depression, unemployment reached 24%.
When things are good, like they were in the tech boom, unemployment is low. Indeed, the lowest unemployment rate we've seen since 1980 was in April of 2000, when it stood at 3.8%.
When things are bad, as they are in a recession, unemployment is high. The highest unemployment rate since 1980 was 10.8%, in November 1982.
Putting everything on a 10-point scale, if you set 3.8% unemployment equal to ten (the absolute best on our timeline) and 10.8% unemployment equal to zero (the absolute worst), where are we now?
Jobs: 4.6

NEXT: Personal Income