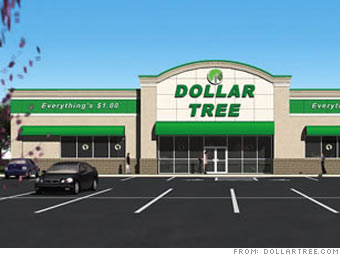 (DLTR) P/E: 12.8, EPS Gr: 15%
Dollar Tree is like the friend you've known forever but haven't given much thought to--until one day, the kid next door has grown unexpectedly attractive.
Dollar stores have gained many admirers: new bargain-hunters. "They're getting fresh eyes," said Karen Short, an analyst at Friedman, Billings, Ramsey & Co. "They've had the stigma of being an unpleasant shopping experience, but now these stores are a budget destination." To that end, sales at Dollar Tree rose 9% in its most recent quarter.
While shares of many stores in the buck-or-less sector have done well during the recession - Family Dollar is up 32.7% during the last year and 99¢ Only Stores is up 31.4% - Dollar Tree has done even better. Its stock has soared 57.5% in the last twelve months. Still, Dollar Tree's stock remains a bargain: shares trade for only about 13 times earnings estimates for this fiscal year.
Short says the shopping experience at Dollar Tree is better than its competitors: more exciting discretionary merchandise, brighter lighting, visually appealing displays and favorable store locations.
The prospect of a continued recession is bad news for most retailers, but thrift should be sexy for Dollar Tree.

NEXT: Fluor