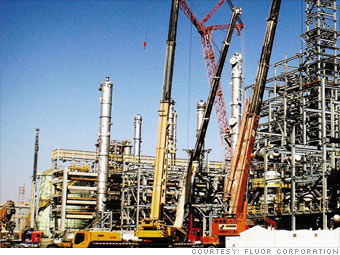 (FLR) P/E: 10.8, EPS Gr: 15%
Fluor, an engineering and construction company that owns businesses in the U.S. and overseas, may seem an unlikely romance during the global downturn. But the company generated a record $8.8 billion in new contracts for the third quarter of 2008, according to Will Gabrielski, an analyst at American Technology Research.
President Obama's economic stimulus package includes a large infrastructure component that should spur public works projects and help firms like Fluor.
Fluor also has many customers in the energy business and momentum is strong there. "They're getting involved where the money is going: clean, green energy," Gabrielski said. That includes research into polysilicone and solar panels, as well as a $1.8 billion contract to build the world's largest offshore wind farm off the coast of England.
There's more to love when you look at Fluor's financials. The company shed a ton of debt over the past year. Sales rose 38% in the third quarter of 2008 and earnings doubled. Plus, shares are trading at only 11 times 2009 earnings estimates, so it's still a bargain.
It's like the best kind of date: well-balanced, focused on the future and lacking baggage.

NEXT: Research in Motion