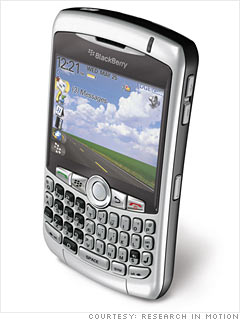 (RIMM) P/E: 16.2, EPS Gr: 25%
The workday doesn't end at 5 anymore. The ability to access e-mail in our pockets is a love/hate necessity for some businesspeople.
That's why we're lavishing affection on Research in Motion, the wireless device company that developed the BlackBerry. Even in the face of a recession, sales are expected to increase 32% this fiscal year while earnings are forecast to grow by 9%.
The company did lower its near-term profit forecast recently, which disappointed investors, but the company also boosted its subscriber growth target, a good sign for the long haul.
Nick Agostino, an analyst at Research Capital, named RIM his top pick for 2009. The company is the smartphone leader in America, and it is gaining market share on Nokia, the #1 global provider. Agostino predicts solid growth for smartphones despite a downturn in the broader cell phone market.
RIM doubled its market share over 2008 from about 8% to 15%. The company launched several new products in late 2008, but some investors were worried if consumers would like them Agostino thinks the fears are unfounded.
"The Blackberry Storm, Bold, and Curve are winning the hearts of smartphone users, so that risk has subsided," Agostino said.
Still, shares of RIM now trade at about 16 times calendar 2009 earnings estimates, compared to 20 times for Apple This BlackBerry's worth picking.

NEXT: DeVry