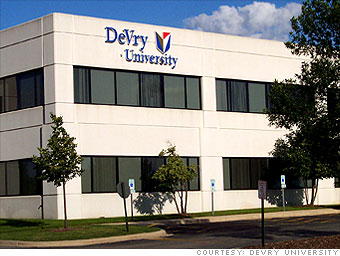 (DV) P/E: 22.4, EPS Gr: 20%
With the economy in turmoil, many Americans are heading back to school to improve their prospects in a dismal job market. That's boosting the fortunes of many for-profit education firms, such as DeVry.
Sales at DeVry rose 35% in its most recent quarter, thanks to enrollment gains and a revenue boost from U.S. Education Corp., a company DeVry acquired in September that focuses primarily on certification and associate degrees in health and technology.
Brandon Dobell, research analyst with William Blair & Company, said the U.S. Education purchase should help DeVry during the recession and for the long-term. That's because health care is one of the few sectors with a large imbalance between demand and supply of qualified workers.
"No matter what happens with the economy, we have an aging population and not enough people in the field," Dobell said.
Also, President Obama's stimulus package will likely boost the education sector with proposed increases in Stafford loans and Pell grants.
With that in mind, it's no wonder that DeVry's stock is actually up slightly from year-ago levels. And since most economists expect the job market to get worse before it gets better, companies like DeVry should continue to feel the love of Wall Street over the next year.

NEXT: Southwestern Energy