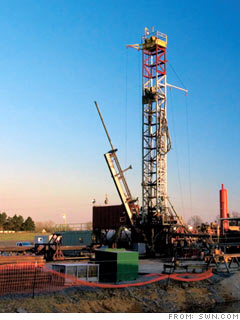 (SWN) P/E: 21.1, EPS Gr: 48%
Energy stocks might make investors skittish now that oil prices have plunged from their record levels last summer, but Southwestern Energy Corp. is flourishing in a tough market.
A lack of capital forced other energy companies to cut back but Southwestern's production of natural gas and oil grew 70% last year -- the company expected only a 35% increase at the beginning of 2008.
The company is predicting a 48% increase in production in 2009, "something no peer could come close to matching," said Scott Hanold, analyst at RBC Capital Markets.
Southwestern is testing "downspacing" -- drilling wells closer together -- in order to increase oil inventory. The big story, though, is Southwestern's discovery of the Fayetteville Shale in Arkansas. Shale gas is an unconventional natural gas produced from sedimentary rock.
The Fayetteville site is a huge boon for Southwestern. There's so much drilling to be done, in fact, that the company could have above-average growth in production and earnings over the next several years, Hanold said.
Of course, the stock's performance could be volatile during the coming months, especially if the economy and natural gas prices don't improve any time soon. Shares are down 36% since hitting a 52-week high last July.
But the stock now trades for about 21 times earnings estimates for 2009, despite a long-term projected earnings growth rate of 48%. So if you're in it for the long haul, Southwestern could be a perfect match for your portfolio.

More galleries