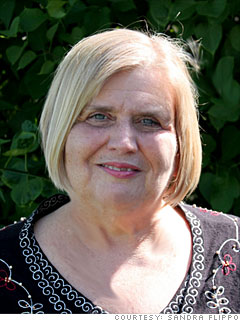 Sandra Flippo
Age:
57
Former job:
Human resources manager
Current job:
Freelance résumé editor
Hometown:
Livonia, Michigan
Last April I was working as a store HR manager for Home Depot -- I never thought I would like this type of job, but I was in this position for over three years, and really loved what I was doing. Suddenly it was announced that these jobs were being eliminated, and over a two week period, I found myself going from a position that I was very comfortable with to being laid off along with 2,600 other HR managers across the country.
Sixteen months later, But I am still searching for a job. I found myself helping people tweak their résumés. I started by charging very little for my time, if I even charged at all. I had people tell me I should do this for a living. Finally that sunk in.
I created business cards, and started to pass them around. Gradually, people would call on me to look at their résumés.
Now I have built a reputation with my résumé writing. I have found that I love helping people and writing resumes. I miss the excitement of HR, but I am putting those skills that I developed in that profession into what is becoming a new career to meet the needs of today's environment.
NEXT: From law to cupcakes