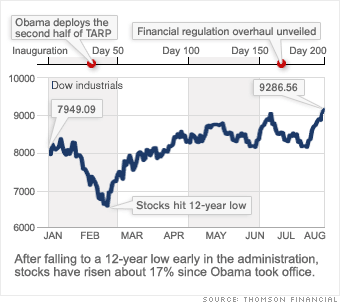 The stock market has rallied since Obama took office, with the Dow Jones industrial average up nearly 17% since Inauguration Day.
After last year's historic declines, investors have been wading back into the market as the economy has shown some signs of stabilization. Still, the blue-chip average is 35% below the highs of November 2007.
Looking ahead, investors will be awaiting signs of improvement in the labor and housing markets, said Quincy Krosby, the market strategist at Prudential Financial.
"There's much to watch," she said. "This stock market is going to be looking ahead six months and outside the United States for direction."