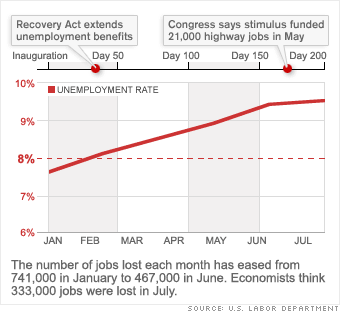 Since the administration took office in January, the economy has lost a total of 3.38 million jobs. The unemployment rate, which stood at 7.6% when Obama was inaugurated, has risen to 9.5% as of June.
"Employment is going to continue to be weak for the next few quarters," said Ed Friedman of Moody's Economy.com. "The unemployment rate is going to peak above 10% around the end of the year."
But the pace of monthly job losses has slowed. There were 741,000 jobs lost during Obama's first full month in office. In June, however, the total number of job cuts was 467,000. Economists think 333,000 jobs were lost in July, according to a Briefing.com consensus.
The administration said in May that it expects the $787 billion economic stimulus program to create or save 750,000 jobs by the end of Obama's second 100 days in office and 3.5 billion by the end of 2010. But so far, the plan's impact is not showing up in the numbers. "Stimulus has not offset the downward momentum in the job market," Friedman said. "It has slowed it down, but hasn't stopped it."

NEXT: Housing: Building a turnaround