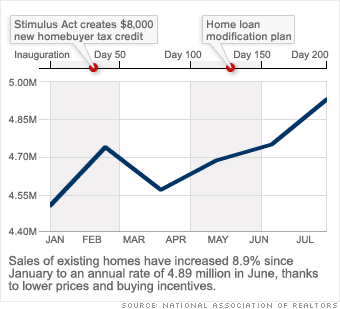 The battered housing market has shown some signs of life as buyers begin to take advantage of low prices, attractive mortgage rates and government incentives. But the foreclosure crisis continues to take its toll.
Sales of existing homes in June rose to a seasonally adjusted annual rate of 4.89 million units. That's up nearly 9% from a rate of 4.49 million units when Obama was inaugurated.
New home sales spiked 11% in June and are up 16.7% since January.
"Housing is actually turning around in many places in the country," said Friedman of Moody's Economy.com. But a recovery will be gradual because of the glut of foreclosed properties weighing on the market, he added.
A record 1.53 million properties were in some stage of the foreclosure process during the first six months of 2009, according to RealtyTrac. The administration's $75 billion foreclosure prevention plan, which got underway in April, has received lackluster reviews so far.