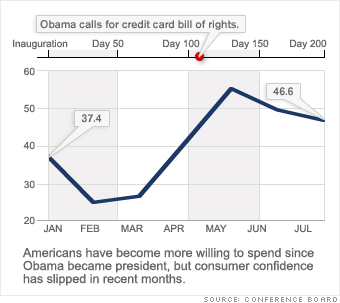 The dismal job market and falling home prices continue to strain American households, but consumers have shown some willingness to spend as economic conditions become less dire.
Americans saw $1.3 trillion of wealth vaporize in the first quarter, which was the seventh consecutive quarter of declining net worth. But the loss was an improvement from the $4.9 trillion drop in the fourth quarter of 2008. That was the worst quarterly plunge on record.
"The worst of the decline in net worth has stopped," said Baumhol of the Economic Outlook Group.
The rebound in stocks has helped households recover some lost wealth and a gradual stabilization in housing means Americans' biggest asset will eventually regain value, Baumhol said.
Indeed, the Conference Board's index of consumer confidence rose to a reading of 49.3 in June from 37.4 when Obama took office, although it retreated a bit in July.