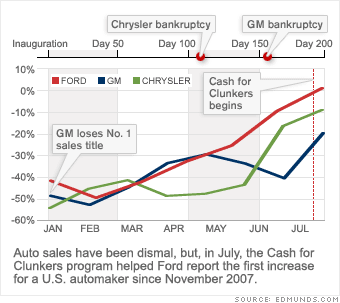 While the collapse of General Motors and Chrysler dominated Obama's first 200 days in office, the administration's Cash for Clunkers plan helped give the ailing auto industry a needed sales boost in July
The government started giving GM and Chrysler billions of dollars in December 2008 to keep them afloat while they restructured, but the automakers were unable to avoid bankruptcy. Both companies have since exited Chapter 11, and GM, which has received $50 billion in taxpayer assistance, is now mostly owned by the government.
But car sales rebounded in July, with Ford Motor reporting the first increase from any U.S.-based automaker since November 2007. The companies credited the Clunkers program, which gives car buyers up to $4,500 for trading in older, gas-guzzling vehicles if they're buying more fuel-efficient cars.
Critics call the government action a mistake, saying GM and Chrysler should have been allowed to fail. "Putting these companies on life support just to maintain an American auto industry does not make any sense," said Ray of Georgetown.
But supporters contend that the bankruptcy process has put GM and Chrysler in a position to become profitable again in the future. "That's largely due to the government taking control and telling the automakers they have to make some very, very hard choices," said Baumhol of the Economic Outlook Group.

NEXT