Three health care providers' stories about how switching to digital health records reveal similar reasons but different paths for implementation.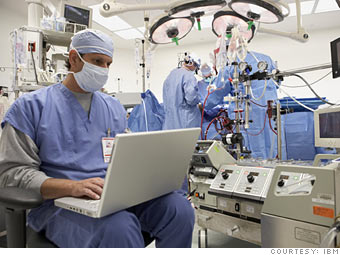 A hospital worker uses IBM's EHR networking solutions, similar to those used at St. Elizabeth Healthcare.
Up front cost: $80 million
Annual service contract: $225,000
St. Elizabeth's EHR plan was triggered last year when it merged with two other Greater Cincinnati hospitals. The new network's management found that each hospital was on a divergent path in terms of health information and technology. Each hospital and outpatient care unit -- and within each unit, each department -- had "a spaghetti bowl" of machines, different IT products and processes to use that equipment, said Alex Rodriguez, chief information officer at St. Elizabeth.
That ate up most of the cost: replacing old machines with new ones that worked with the new EHR software. For instance, the hospital network is replacing all of its IV pumps with smart technology pumps that receive formulary updates on a wireless network, so nurses don't over- or under-dispense medication.
St. Elizabeth said the EHR integration will save it money in the long run, mostly by ending the concophany of contracts with former equipment makers and servicers. The network also says costs will go down as physicians become more efficient."If clinicians had to use six to eight applications for a task, this should get that down to one or two," said Rodriguez. "
Rodriguez said the network will get about $14 million in stimulus money over the program's five year period from 2011-2015, assuming it meets all of the requirements.
NEXT: Memorial Hospital, Sweetwater County, Wyo.