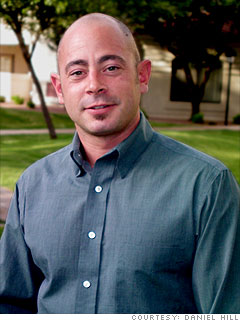 Daniel Hill
Age:
32
Occupation:
CEO of online retail marketing firm
Hometown:
Phoenix, Ariz.
We have a small office in an office park near Sky Harbor Airport in Phoenix. We've been here for about three years. Until six months ago, finding parking here was a pain. If you weren't here by 7:30 a.m., the odds you'd find a spot in front of your building were slim (never mind a shaded spot). Over the past six months roughly half of the complex has vacated. That's an estimated 40-60 small businesses that are gone.
Some moved, I know a few of the owners in here that were enticed by desperate commercial landlords, and found better offers. But I also know several that simply went under, or moved back into their "garage." Most went under.
Now, I can saunter into the office any old time and have my pick of spots right in front of my office door. Even the shaded ones, which is a pretty big deal when it's 116 degrees out there.
NEXT: Recovery: Calls coming in
Last updated July 20 2009: 11:13 AM ET