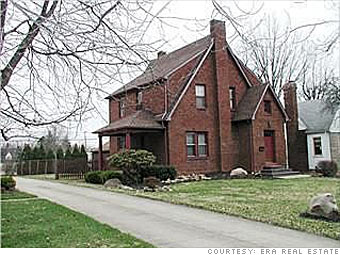 $119,500 buys a home in Youngstown with three beds and two baths.
Median home price:
$72,000
Median income:
$54,300
Affordability score:
93.9%
Youngstown was a vibrant, wealthy steel city for many decades. Workers were paid some of the highest factory wages anywhere.
But the mill closings of the late 1970s devastated the area's economy. About 40,000 manufacturing jobs were lost. Today, more than 12% of workers in the area are unemployed.
As jobs vanished, the area's population shrank, leaving lots of vacant homes for sale -- from the very modest row houses to huge mansions. That helps keep the median home price in the metro area very low -- and boosts Youngstown's affordability score.
Low interest rates also help. Financing 80% of a $73,000 home with a 30-year, fixed rate mortgage at around 5% would result in a monthly payment of $313. At those kinds of prices, renters soon become homebuyers.
Even with the area's median income at a modest $54,300, 93.6% of homes sold during the third quarter were affordable for the typical household. Throw in the first-time homebuyers tax credit, which basically refunds about 10% of the purchase price, and you have great deals for entry-level homebuyers.

NEXT: 3rd place: Detroit

Last updated November 25 2009: 10:08 AM ET
Source: National Association of Homebuilders/Wells Fargo Housing Opportunity Index for the third quarter of 2009.
The NAHB judges a home to be affordable if a family making the metro area's median income could devote no more than 28% of their take-home pay toward housing costs.