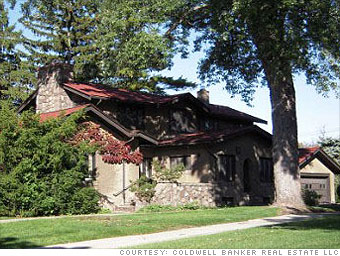 $189,000 buys a four-bed, three-bath home in the Palmer Woods section of Detroit.
Median home price:
$84,000
Median income:
$57,100
Affordability score:
92.2%
Detroit is transitioning from the leading manufacturing city of the land, the erstwhile "Arsenal of Democracy," into a leaner, more diversified economy. The metro area's unemployment picture has darkened significantly in recent months and in September stood at 17.3%, nearly twice the national average.
Metro Detroit home prices, pushed down by continued high foreclosure rates, shrank to a median of $86,000 during the third quarter of 2009. That was down from $145,000 back in 2005.
Even though the median family income is a modest $57,100, 94% of all homes sold during the quarter were affordable for the average household.
NEXT: 4th place: Warren, Mich
Last updated November 25 2009: 10:08 AM ET
Source: National Association of Homebuilders/Wells Fargo Housing Opportunity Index for the third quarter of 2009.
The NAHB judges a home to be affordable if a family making the metro area's median income could devote no more than 28% of their take-home pay toward housing costs.