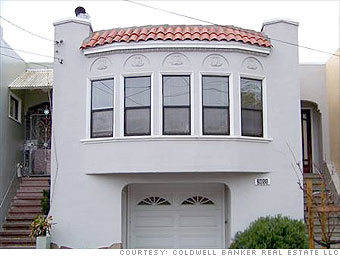 $738,000 for this two-bed, one-bath home that is just feet from Stern Grove Park in San Francisco.
Median home price:
$598,000
Median income:
$96,800
Affordability score:
23.6% Home prices in the Bay Area have dropped steeply since the heady days of 2006, when the median house sold for $769,000, according to the NAHB-Wells Fargo Housing Opportunity Index. Now the median home is only $580,000.
That's still a lot, even though the area's median income of $96,800 is among the highest in the nation; only 26.9% of families can comfortably afford the price of the median home sold there during the third quarter of the year.
Foreclosures have become a huge problem in the Bay Area. RealtyTrac figures show a total of more than 55,000 homes with filings in 2009 through Sept. 30.
NEXT: 3rd place: Honolulu
Last updated November 25 2009: 10:08 AM ET
Source: National Association of Homebuilders/Wells Fargo Housing Opportunity Index for the third quarter of 2009.
The NAHB judges a home to be affordable if a family making the metro area's median income could devote no more than 28% of their take-home pay toward housing costs.