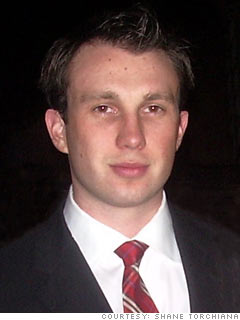 Name:
Shane Torchiana
Age:
26
Hometown:
Cambridge, Mass
Position interviewing for:
Portfolio manager associate
Not long after I graduated from college, I landed an interview at a big, prestigious investments firm. I got an email from HR asking for my SAT scores and school transcripts. I thought the SAT request was a bit odd, but figured my scores would only help me, so I sent in the scores, and a day or two later was asked to come in for some "testing" -- at most it would last "two or three hours." I was pumped; I went in the next Friday at 7:45 a.m., ready to show them what I could do.
After taking timed math, statistics and verbal tests till 10:00 a.m. I was invited to talk to a member of the team. Then I was invited to talk to another. This process was repeated until well into the afternoon, by which time I had talked to over a half dozen people. Each of these people grilled me with brain teasers (how many ping pong balls fit in a 747, what's the distance in degrees between the hour and minute hands at 3:15 on a clock face) and complex financial questions (explain how gamma and delta interact in an out-of-the money European option, explain how the concept of negative convexity will affect this MBS' price in an environment of decreasing interest rates) and on and on. As the interview was ending, I noticed the sun was setting. I realized I had been there for over 10 hours.
After two more rounds of interviews and extensive reference checking, they offered me the job. Later I would find out they put dozens of candidates through this process for just the one position, most of them never heard from the company again. I shuddered at the thought of the tens of thousands of hours of misery they inflicted to fill all of the department's positions.
NEXT: Clothing calamity