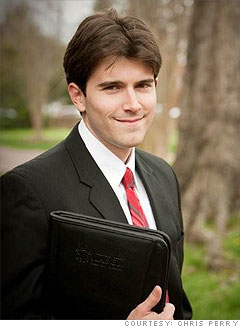 Name:
Chris Perry
Age:
24
Hometown:
Richmond, Va.
Position interviewing for:
Assistant brand manager
All of the candidates arrived the evening before the official interview process for a dinner interview meeting with HR managers and in our specific case, brand managers from the company. After an overnight at a local hotel, we returned to the company early in the morning for a day-long 8-hour plus series of events. This included two one-on-one interviews, multiple creativity exercises, a GMAT-like math exam, a group problem solving and presentation challenge, a group negotiation and team working challenge and a number of group interview opportunities.
While this was probably the most intense interview process I have ever experienced, I found it to be a true testament to the company and its culture and its drive to really evaluate candidates for the most appropriate and effective selections and placements. It had such a positive effect that it was the tipping point in my company selection process.
NEXT