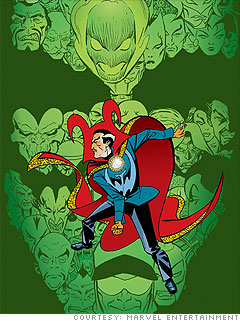 Dr. Stephen Strange was a renowned neurosurgeon, but lost the ability to use his hands following a car accident.
With nowhere else to turn, Dr. Strange went to a sorcerer named the Ancient One, who refused to cure him. The Ancient One instead took Dr. Strange under his wing to teach him the art of sorcery after Dr. Strange proved himself a selfless and honest man by trying to thwart the Ancient One's evil student, Mordo.
Dr. Strange became one of the powerful sorcerers in the world under the Ancient One's tutelage ... and one of the most popular comic book heroes in Marvel's line-up, according to Fishler.
"Dr. Strange may be the biggest character never to hit the screen," he said.
NEXT