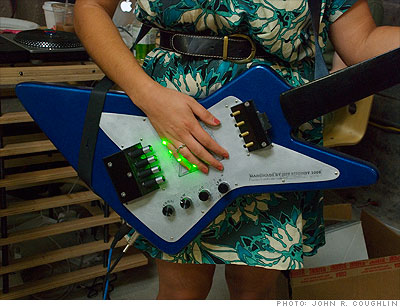 This bass guitar features four green lasers instead of traditional strings. Musicians hold it like a regular instrument -- moving one hand up and down on the neck of the guitar to change the instrument's pitch -- while "strumming" the lasers with the other hand.
A few different knobs and levers let rockers change octaves and choose one of three synthesizer waves, to make sweet electroclash sounds.
The Prism bass plugs into a traditional amplifier and doesn't require any additional equipment. But don't expect to start rocking out anytime soon -- the Prism's designer has no plans to market the bass commercially.