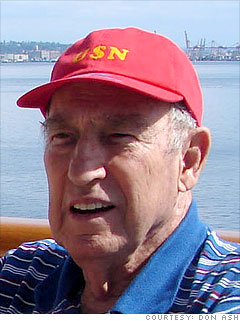 Name: Don A. Ash
Age: 85
Hometown: Keizer, Ore.
I am an 85-year-old retiree from the drug industry who retired in 1984. I was given a cash settlement in place of a pension and rolled it over into a stock market that has treated me very well over the years.
My portfolio is broad and I keep what I like to call a "personal mutual fund." My IRA has 15 stocks and funds and my brokerage account has 30. Some of my big winners over the years have been Biogen, which I bought in 1984, and Alcatel-Lucent, which I bought when it fell to around $1 from $64.
Like many people, I lost over 30% in the recent slide. The biggest losers for me were Washington Mutual, Bank of America and Microsoft. But in the last few months, I've gained some of that back. Citigroup, Terex, Maxwell Tech and Hyundai are all green as of now.
I'm still down around 20% from a year ago.
NEXT: Maxing out the 401(k)