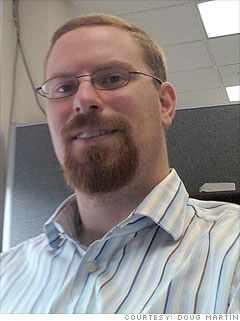 Name: Douglas Martin
Age: 31
Hometown: North Brunswick, N.J.
I didn't have much invested before Lehman Brothers and the stock market collapsed, but once they did, I jumped on the opportunity and maxed out my contribution to my 401(k) plan.
Last fall, I was only contributing 1% of my salary to my retirement savings. But starting in March, I began contributing 10% so as to get the most from my employer match. That helped me recover the 60% I had lost between Lehman's collapse and the March bottom. I've now seen a 15% return on my contributions since March.
My Fidelity account has tanked the most, and I removed all my funds from them. My DWS RREEF Real Estate Fund and Oppenheimer International Growth Fund have led the way for my gains. I'm 31 so I know the market will recover well before I am ready to retire. I can weather the choppy trading.
NEXT: Waiting out the downside