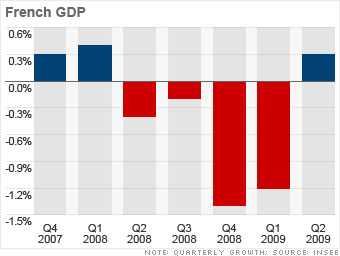 GDP: 1.4%*
Inflation: -0.2%
Unemployment: 9.8%
Markets: 25.2%
Interest rate: 1%
France's economy entered its recovery in the second quarter, an encouraging sign that led the country to revise its long-term forecasts higher this week.
The country's $37 billion economic stimulus program helped bring the French economy back to positive growth for the first time in more than a year. Though French economic minister Christine Lagarde said the economy will likely contract by 2.25% this year, that's less than the government's previous forecast of 3%.
Lagarde said the economy will continue to grow throughout the remainder of the year, but that the growth will be tepid.
That's because economists expect that unemployment, which rose sharply during the recession, will remain a problem for quarters to come. Last month, France recorded its worst quarterly labor reading in four years.
France's finance minister also said this week that the country remains in a "extremely vulnerable period," given its forecasts that its deficit will rise to between 7% and 7.5% of GDP next year. That's more than double the 3% limit set by the European Union.
NEXT: United Kingdom: Signs of life
Last updated September 24 2009: 11:03 AM ET
Source: IMF, national statistics offices, central banks, CAC
*Figure does not match chart because it is given in an annualized rate