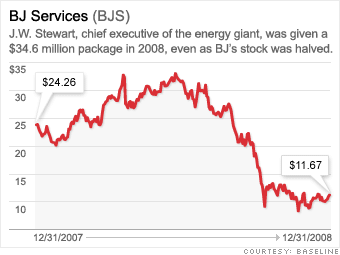 The bulk of James Stewart's $34.6 million windfall came from value realized on stock options, which resulted in a $30 million jackpot, according to the Corporate Library.
Stewart was granted those options more than five years ago. So they were still valuable despite the fact that the company's stock was halved in 2008.
Shares of BJ Services have outperformed other energy companies over the last 12 months, but the stock has trailed its peers and the broader market over a 5-year period, according to the Corporate Library.
BJ Services was acquired last month by rival Baker Hughes for $5.5 billion. Stewart remains chief executive until the deal closes at the end of 2009.
BJ did not respond to efforts requesting comment.