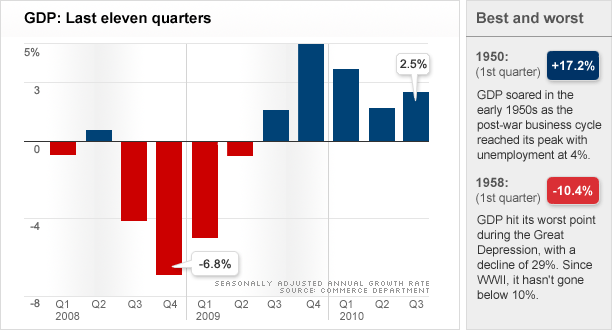 What it is: Gross domestic product is the broadest measure of the nation's economy. GDP measures what individuals, businesses and the government spend as well as the net impact of the nation's imports and exports.

Why it's important: Economists use GDP as one of several data points to determine whether the economy is in a period of recession or expansion. The 2008-2009 recession was one of the deepest ever -- it was the first time in history in which the economy retreated for four straight quarters.

Where we're headed: The economy returned to positive growth in the third quarter of 2009 after contracting for four straight quarters. Experts have warned that government stimulus programs contributed strongly to the economic expansion and that the economic recovery is still fragile.
NEXT: Housing: Still sluggish
Last updated November 23 2010: 10:39 AM ET