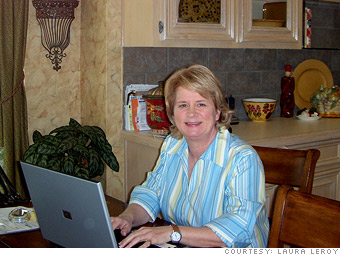 Laura LeRoy, 54, lives in Houston.
What I pay:
$450 per month
Deductible:
$5,000
Insurer:
Aetna
I took an early retirement package from my company in 2005, and I chose to continue with group coverage for $450 a month and a $5,000 deductible. It was the cheapest option, and I only go to the doctor about once a year.
After the downfall on Wall Street, I looked closer at all my expenses and I learned I could get individual health insurance with better coverage for $225 a month. But the agent who's helping me find new health insurance is reluctant to send my application to insurance companies because they might decide I have a preexisting condition, based on a doctor visit I had last year.
What I want fixed: The whole preexisting condition is a huge dilemma in the insurance industry, and it's the biggest kink in the way of moving forward. I don't know whether the government should address this issue through a public option or a marketplace, but I want a plan that gives me a better bang for my buck and assures that I will always be covered.

NEXT: Chris Swenson: COBRA