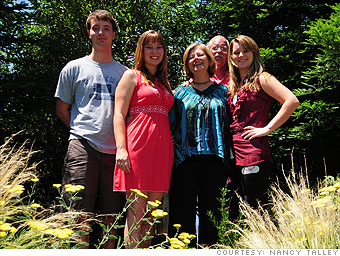 Nancy Talley, 61, lives in Durham, Calif., with her husband, Dean, 60, and their three children.
What I pay:
$650 per month
Deductible:
$2,000 per person
Insurer:
Blue Shield of California
My husband works for the U.S. Forest Service, and they sponsor health insurance for us and our three college-aged kids.
We're happy with our policy, but what frustrates me is that health care costs depend on what insurance company and plan you have. If I ask how much an office visit or a mammogram is, I shouldn't be asked whether or not I have insurance and what my policy is.
What I want fixed: I'd like to see that the base price for the services fall within a certain range across the country -- like groceries. That would increase the competition in the industry and people would have more control over how to spend their medical dollars. And getting rid of state-specific insurance would also standardize costs.
I also think Congress should pass tort reform. It won't limit out-of-pocket medical expenses, but it will still bring down overall costs and help everyone in the end.

NEXT: Michael Sweeney: Employer plan