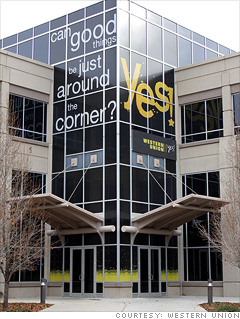 Having the right skill set is the fastest way to get a job at Western Union
Where the jobs are:
Although jobs are available around the world, opportunities in the United States are concentrated in Denver, Colo., Montvale N.J. and southern Florida.
Those with a background in finance may want to consider transferring their experience to the money transfer pros. Although business did slow slightly this year, the 6,700-person company is hiring about 125 employees worldwide, half of which will be in the United States.
One opening for a manager of international tax pays $75,000-$90,000 and previous experience in international taxation will certainly pay off. Other opportunities in information technology also require experience so job applicants should heed the qualifications that are listed, suggested Director of Leadership Talent Acquisition Chris Brabec. Other than that, motivated folks willing to work hard will fit in well, Brabec says.
More galleries