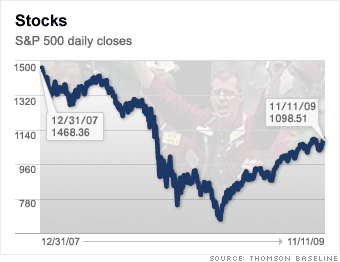 The stock market is often said to be a leading indicator of the economy, meaning that stocks move higher ahead of any upturn in the economy as investors bet on better times ahead.
Major U.S. stock indexes have had a strong run since hitting a low in March, recapturing much of the decline sparked by last fall's financial crisis. Still, stocks are well below their pre-recession levels.
There are plenty of market experts who worry that prices have gotten too far ahead of actual improvement in corporate sales and earnings. A market correction probably wouldn't raise fears of another recession. But a new bear market, with prices falling about 20% from current levels, would be another shock to the financial system that could cause broader problems for a still vulnerable economy.
"Post bubble credit collapses are generally fraught with fragility and general economic weakness," said David Rosenberg, chief economist and strategist for investment bank Gluskin Sheff. "I don't believe you can destroy trillions of dollars of wealth and believe we're back to normal."

More galleries