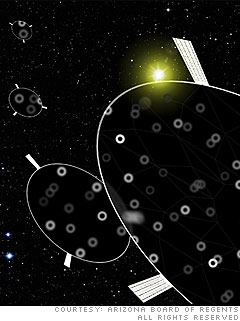 This is perhaps the most far-out idea here.
How it works: Deflect the sun's rays with a cluster of translucent disks, each two feet in diameter, placed in orbit between the earth and the sun.
The number of disks needed for the job is staggering: Some 16 trillion, according to Roger Angle, a professor of astronomy and optical sciences at the University of Arizona.
Why it might not work: The limiting factor here is how to launch these things into space, as it would be far too costly to send 16 trillion disks up by rocket.
So Angle is proposing a yet-to-be-built magnetic gun with a mile-long barrel to shoot the disks into space. Even then, he said it would still cost trillions of dollars.
"This is obviously pretty futuristic," he said. "But if we get to the panic point, you need to know a little bit about what your options are."

NEXT: A permanent haze