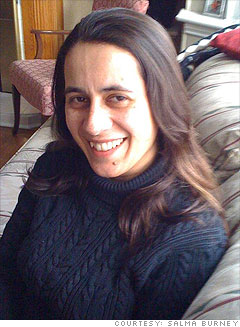 Salma Burney
Age:
38
Profession:
Independent consultant
Holiday job:
Sales associate at Indigo Chapters bookstore
Location:
Hamilton, Canada
Supplemental pay:
$9.50 an hour
"For some of my clients, their business was very slow and if they don't need me then I don't have work. In September I had to declare personal bankruptcy. In order to pay my bills I needed some steady income so I decided to take a job for the Christmas season. I went online and I saw one for this store so I went to their company Web site and filled out an application and then a month later I heard from them.
I applied for other jobs too, but I didn't hear back from them. [Indigo Chapters] called me for an interview with the manager, and then they called a week later and made their offer. I've had two shifts so far. Part-time here is about 20-25 hours so I still have the afternoon to do work for my clients.
It's giving me a sense of relief that I'm going to get a paycheck every two weeks. Doing this gives me a little peace of mind, at least I know there's something steady coming."
NEXT