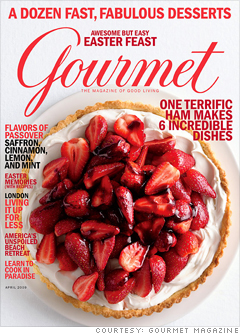 Of all the publications lost this year, the demise of
Gourmet
Magazine was one of the hardest to swallow.
Condé Nast said in October that the magazine, introduced in 1940, is expected to close by the end of the year. However, the brand lives on in book publishing and television programming, and Gourmet recipes still appear on Epicurious.com.
Gourmet, which boasted nearly 1 million subscribers, fell victim to a decline in ad sales and pressure from digital media. It was one of several high-profile magazines that suffered a similar fate this year, including: Portfolio, Vibe and National Geographic Adventure, to name a few.