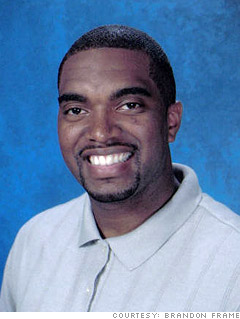 School: Morehouse College
Major: Business marketing
Current town: West Newton, MA
Job: Teaching fellow
Previous status: About to start working
During college, Brandon Frame worked hard to position himself for the post-grad job search. And it all paid off when he landed five job offers despite the brutal economy.
He decided to accept a fellowship teaching seventh-grade English at The Fessenden School, a K-9 all-male boarding school in Massachusetts.
"I set high expectations for the boys, but I told them we'd get there together," Frame said. "They're definitely rising to the occasion, and I have a rep for being firm but fair. I like that."
Teaching is only one aspect of Frame's duties; he also coaches the soccer and basketball teams, and serves as a resident dormitory director. He runs an affinity group for African-American students and founded an entrepreneurship club and a debate team.
Frame's contract ends July 1, but he hopes to return for another school year teaching English or history. Nothing is certain for next year, so he continues networking with his contacts -- but he still has more plans for his students.
"I have a lot of goals, from using technology in the classroom to helping students avoid words like 'nice' and 'very' in their essays," he said. "The students respond well to me, so I tell them: Do not hesitate to tell people you like Mr. Frame."