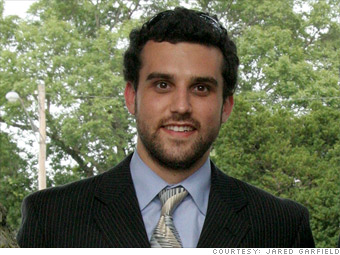 School: University of Iowa
Major: Management information systems
Current town: Deerfield, IL
Job: Founded a business
Previous status: Same
The bleak labor market doesn't worry Jared Garfield -- he's his own boss. Garfield and business partner John Slump co-founded their own business, J&J Solutions, to sell a device that dispenses chemotherapy to cancer patients in a safer, more efficient way.
The company got its start in a business class in fall 2006. What began as a school assignment ended up winning $70,000 from business plan contests around the country. J&J Solutions has since raised enough capital to begin the product's final development stages.
"We've gotten some great feedback from market research," Garfield said. "We still have work to do in designing and implementing, but we've taken huge steps the past few months."
Garfield says he's been "living the nomad lifestyle," traveling all over the country for marketing and research opportunities. He has yet to pay himself a salary, but the company recently received yet another cash infusion; J&J finally got a check for a $150,000 grant from the Iowa Department of Economic Development that was awarded back in April.
"It's been a long road, but it's still very exciting," Garfield said. "People are starting to learn our name thanks to our resilience and dedication. It's the passion that drives you forward."

NEXT: Alan Kennedy-Shaffer - Employed