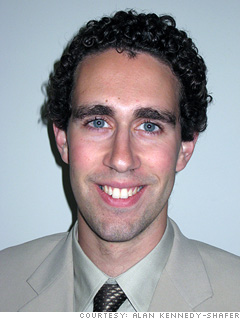 School: College of William and Mary
Major: J.D. (Law)
Current town: Harrisburg, PA
Job: Assistant counsel for a state agency
Previous status: Employed in 10-week fellowship
Not even a state-mandated hiring freeze could keep Alan Kennedy-Shaffer from scoring a job. When he began a 10-week fellowship in Pennsylvania Governor Edward Rendell's press office in August, he knew the state wasn't hiring anyone full-time.
But on the day before his position with the governor's office was slated to expire, his supervisors suggested that he interview for a permanent job in another department.
Less than 24 hours later, he was told he'd start the next week as an assistant counsel for the Pennsylvania Commission on Crime and Delinquency. The agency had to obtain a waiver to break the hiring freeze.
"I consider myself the luckiest person in Pennsylvania," Kennedy-Shaffer said.
Under PCCD, Kennedy-Shaffer advocates on behalf of crime victims. "I get to do morally good work in the public interest, assisting victims who need the help," he said. "Not many lawyers can say that."

More galleries